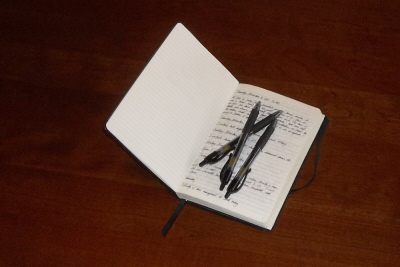 Two Days Left!
Today, I'd like to remind you that there are two days left to enter the giveaway drawing. If you have not done so, now is a great time to enter by inserting your email address in the 'Subscribe to this site' entry box. (This can be found on the sidebar to the left. Smartphone users, this is found at the bottom of the page).
On February 29, I will hold a drawing, with one entry for each email address (per person) currently subscribed. (This means that you will be automatically entered in the drawing even if you subscribed prior to this drawing being announced). The winner will receive:
One 5×8 black bonded leather journal from C.R. Gibson – This stylish journal is high quality, perfect for preserving your thoughts and ideas – it is the very kind I use!
One pack of Pilot G-2 Pens – You will want a quality writing instrument with this journal, and these professional gel pens are my favorite.