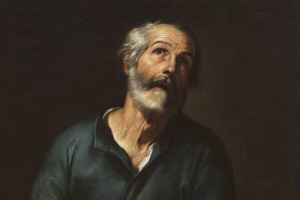 A Summary of Peter's Life
Fishing
Simon, son of Jonas and resident of Bethsaida, was a fisher with his brother Andrew. Simon encountered Jesus when his brother claimed to find the Messiah. When they were introduced, Jesus renamed him 'Cephas' ('rock' or 'stone' in Hebrew) which translates to 'Peter' in Greek.
 Calling
Later, as Peter was fishing with Andrew, Jesus called and the brothers followed. In Capernaum, Peter witnessed Jesus' power to heal his mother-in-law of a high fever. Still, Peter had not forsaken everything. Sometime later, after Jesus used his fishing boat as a teaching platform, the Master directed Peter to let his net into the sea, and the boats were nearly overwhelmed with the catch. Peter fell down at Jesus' knees, crying out that he was sinful man. Jesus responded that he would be a fisher of men, and Peter left everything to follow the Lord.
Discipleship
Peter was soon part of Jesus' inner circle with James and John. He is named first among the twelve. He witnessed many public miracles, and was one of the few to see Jairus' daughter raised from the dead. With an outspoken and impetuous nature, he walked on water and refused to leave Jesus when the crowds forsook the Messiah. Later, at Caesarea Philippi, Peter uttered his famous confession – "You are the Christ, the Son of the living God" – followed almost immediately by his denial of Jesus' coming sufferings, and Christ's stinging rebuke.
He was one of only three disciples who saw the transfiguration. It was Peter who later found money in a fish's mouth to pay a tax, and who found out that he must forgive seventy times seven. Afterward, Jesus taught him the signs of the end times. And it was Peter, with John, who was sent to prepare the Passover on the evening of Jesus' betrayal.
Upheaval
That evening, Peter refused to let Jesus wash his feet, though he later relented. As he tried to figure out who would betray his Master by motioning to another disciple to ask the question, he promised to follow Jesus to death. Instead, he was informed that he would deny Jesus three times. He went with Christ to pray in Gethsemane as one of the three closest disciples, but slept away his hour of prayer.
When Peter awoke, he tried to resist the hostile crowds. When he cut off the ear of Malchus, Jesus healed the high priest's servant, and Peter fled, forsaking his Lord. In the end his curiosity prevailed, and the disciple followed at a distance, but denied Jesus three times. After he realized what he had done, he left with bitter weeping.
On the resurrection morning, Peter and John both ran to the tomb. John arrived first, but Peter was bolder. He entered and saw the empty wrappings, and later that day he saw Jesus himself, the first of the apostles to see the Lord. Later, as he returned to his fishing, Peter was directed by the Lord how to catch a great load of fish. When he realized who was speaking to him, Peter returned to the shore, ate a meal with Jesus, and was questioned whether he loved the Lord. Three times he affirmed that he did, and Jesus charged him to "feed my lambs" and "follow me." When the forty days were ended, Jesus ascended to heaven as Peter and the other apostles watched.
Ministry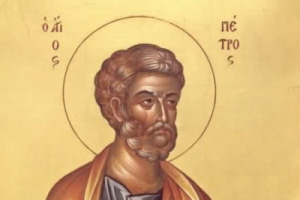 As they were praying in an upper room, waiting for the Holy Spirit, Peter cast lots to replace the traitor Judas with Matthias. On the day of Pentecost, when the Spirit arrived, Peter preached to the assembled crowds, and again – after he healed a lame man at the temple – he preached a powerful message. But this only resulted in official questioning by the Sanhedrim.
The Spirit was miraculously powerful in Peter's life. When Ananias and Sapphira lied to him, they fell down dead. When his shadow fell on the sick, they were healed. And when he was incarcerated by Herod, an angel released him to further preaching. The Sanhedrim responded by beating him, but he rejoiced to suffer shame for Christ.
Peter did not confine himself to Jerusalem. Travelling to the city of Samaria, he imparted the Holy Spirit to believers living there while confronting Simon, a former sorcerer who tried to buy the Holy Spirit. Later he healed a man named Aeneas of palsy in the city of Lydda, while in Joppa he raised Dorcas from the dead. It was when he was in Joppa, living with Simon the Tanner, that he was called by the Roman Centurion to preach in Caesarea Maritima, bringing the gospel to the gentiles for the first time ever.
Of course, Peter's preaching in a Gentile city raised eyebrows, so he returned to Jerusalem to explain. It may have been around this time that Peter and Paul first met. Soon Peter was again thrown in prison by Herod, again escaping with angelic aid, and this time he left Jerusalem for a time. We know that when the Jerusalem Council occurred he was back in the ancient city, where he argued that the gentiles need not keep the law of Moses, and where he met Paul again.
Later Ministry
Details about the remainder of Peter's life are scarce. At some point, in Antioch, Paul confronted him about his refusal to eat with Gentiles. Many believe that the apostle also travelled to Corinth, where various sects claimed his name. Paul mentions that Peter travelled with his wife, and refers to him honorably as the 'apostle of the circumcision.' His two epistles were written later in life, from 'Babylon' – either the eastern city, or a pseudonym for Rome.
Death
According to tradition, when Peter was living in Rome, he determined to flee Nero's persecution. But as he left the city, he saw Jesus again. He asked where his Lord was going – 'Domine Quo Vadis?' – and Jesus responded, "I go to be crucified afresh." Peter returned to Rome with joyful contentment. When his day of execution arrived – possibly the same day that Paul was executed – tradition says he encouraged his wife to martyrdom with the words, "Remember, dear, our Lord." He then asked to be crucified upside down, stating that he was unworthy to die as his Lord did.