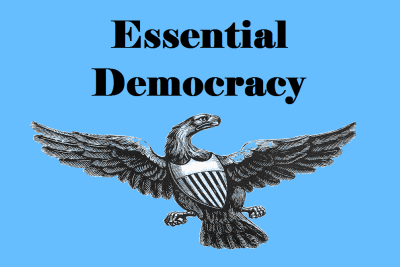 Essential Democracy
Essential Democracy is a project that I have been working on for a number of months, and today I would like to introduce it to you. Essential Democracy brings you key excerpts from one of the most famous studies of democracy, a book written in the 1830s by a Frenchman, Alexis de Tocqueville. That book, Democracy in America, has been praised as "the best book ever written on democracy and the best book ever written on America." The New York Times said, "No better study of a nation's institutions and culture than Tocqueville's Democracy in America has ever been written by a foreign observer." Another says that the book "is arguably the most perceptive and influential book ever written about American politics and society."
But who has time to read the two thick volumes of Democracy in America? That is what inspired me to condense the book and give you its essence in Essential Democracy. This short pamphlet describes the character of democracy and warns about the threats to democracy, as well as describing what tyranny looks like in a democratic society – all in the words of De Tocqueville himself. It is a quick and informational read, and it is a great way to inform others about democracy.
Below is an excerpt from the pamphlet. If you would like information on how to obtain your own copy of Essential Democracy for free, please check out my newest giveaway by clicking here.
Threats to Democracy: Tyranny of the Mind
How does democracy control the mind?
Princes made violence a physical thing, but our contemporary democratic republics have turned it into something as intellectual as the human will it is intended to constrain. Under the absolute government of a single man, despotism, to reach the soul, clumsily struck at the body, and the soul, escaping from such blows, rose gloriously above it; but in democratic republics that is not at all how tyranny behaves; it leaves the body alone and goes straight for the soul. (255-256)
The master no longer says: "Think like me or you die." He does say: "You are free not to think as I do; you can keep your life and property and all; but from this day you are a stranger among us. You can keep your privileges in the township, but they will be useless to you, for if you solicit your fellow citizens' votes, they will not give them to you, and if you only ask for their esteem, they will make excuses for refusing that. You will remain among men, but you will lose your right to count as one. When you approach your fellows, they will shun you as an impure being, and even those who believe in your innocence will abandon you too, lest they in turn be shunned. Go in peace. I have given you your life, but it is a life worse than death." (255-256)
Does America suffer from tyranny of the mind?
I know no country in which, speaking generally, there is less independence of mind and true freedom of discussion than in America (254-255)
What struck me most in the United States was the difficulty experienced in getting an idea, once conceived, out of the head of the majority and stopping their following the man of choice. Neither writings nor speeches can have much success in that; only experience can do it, and that too must sometimes be repeated. (640)
Is tyranny of the mind any better?
Men would by no means have found the way to live in independence; they would only have succeeded in the difficult task of giving slavery a new face. There is matter for deep reflection there. I cannot say this too often for all those who see freedom of the mind as something sacred and who hate not only despots but also despotism. For myself, if I feel the hand of power heavy on my brow, I am little concerned to know who it is that oppresses me; I am no better inclined to pass my head under the yoke because a million men hold it for me. (436)