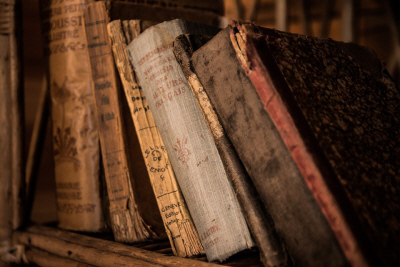 Get a FREE Book!
UPDATE: This giveaway is ended. The winner will be announced shortly.
Thanks for reading From Daniel's Desk. I really do appreciate that you are here, and I want to show that appreciation with another giveaway, for a free book – of your choice!
The rules are very simple. I will hold a drawing on August 31, and the winner will be able to choose any one of the following ten books, which I will send to him or her for free. Don't worry about the selection – as you will see below, there are four different categories, and I found each of these books to be very useful. I'm sure that you will be able to find something that interests you.
So, how do you enter?
If you are already subscribed (and remain subscribed!), you are already entered! This is my way of thanking you for being a consistent reader of From Daniel's Desk. You don't have to do anything – you already have an entry in the drawing.
If you are not already subscribed, just enter your email address in the subscription box. (Normally located on the right hand side of the page; smartphone users, look at the bottom of the screen). Because you are a new subscriber, you will get two entries in this giveaway. It's my way of saying 'thanks!'
And finally – for those who want even more entries, just promote From Daniel's Desk by posting on social media or telling a friend who subscribes. Each time you do this and send me a quick note HERE, I'll give you another entry in this drawing!
Again, thanks for reading, and enjoy browsing the ten titles below that you could win!
Religion
The Treasury of Scripture Knowledge – This book is a 'power tool' for personal Bible study. It is filled with cross references to every passage of Scripture. It's one of the handful of books that I would want to bring with me if I am ever deserted on a desert island.
When Helping Hurts – With around a billion people living on slums around the world, how do we help the poor today? This book provides thoughtful, biblical answers to those who want to serve God by loving others.
A Vision for Missions – Why missions? More than just a book about missions, this book provides the theological backdrop for why missions is important, even when it is difficult.
History
Endurance: Shackleton's Incredible Voyage – I couldn't put this book down. When Shackleton, a British explorer of the early 20th century, finds his ship caught in Antarctic ice, his crew must travel hundreds of miles through the frigid landscape in the hope of distant rescue.
The Guns of August – World War I started over a hundred years ago. It is often shrouded in mystery, but this captivating book details the first eventful month, the prelude of this global conflict.
Skeletons on the Zahara: A True Story of Survival – When an American merchant crew finds themselves stranded on the shores of Saharan Africa, they have no one to turn to except the desert nomads, who despise them and make them slaves. Terrifying and gripping.
Survival
The US Armed Forces Survival Guide – From finding water in the desert to avoiding a nuclear explosion, this book will keep you alive in the most trying situations. You just need to read it before the crisis erupts.
Backyard Medicine: Harvest and Make Your Own Herbal Remedies – Most pharmaceutical companies go to the distant reaches of the world to bring back powerful and expensive drugs for American patients. What if some of the weeds growing in your backyard had medicinal values?
Writing
On Writing Well: The Classic Guide to Writing Nonfiction – This book (along with The Elements of Style) was foundational to my growth as a writer. The basic premise is simple: it is not merely writing, but especially good editing, that makes a good book great.
The Elements of Style – Whether you need a review of English grammar, or some powerful pointers on what makes excellent style in writing, this book is a classic tool. It was certainly foundational for me.