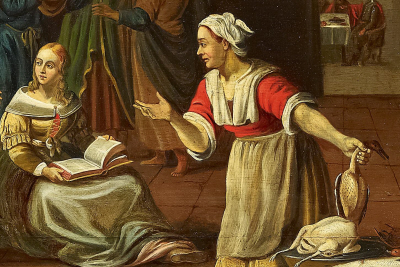 Duty or Devotion?
Sometimes, a little story has a big lesson. In Luke 10:38-42, we are introduced to two women, sisters, who both desire to honor Jesus. Which woman do you resemble?
Mary sits at Jesus' Feet
The first woman, Mary, "sat at the Lord's feet and listened to His teaching." Jesus said about her, "Mary has chosen the good portion, which will not be taken away from her." This is all that we are told about Mary in this passage.
Whatever we do not know about Mary, we know this – she took time to sit and learn. When Jesus came to her house, she viewed it as a golden opportunity to be a disciple. What is a disciple, anyway, except a student – someone who takes the role of a learner?
Mary showed her devotion to Jesus by spending her time at his feet, seeking to nurture her soul into obedience to His words.
Martha serves Jesus
While Mary was sitting at Jesus' feet, her sister Martha was busy. We are told that "Martha welcomed Him into her house," implying that Martha was probably the sister who ran the household. Martha sees this as a golden opportunity to show her love to the Lord. She wants to be hospitable and serve him. In fact, she was busy serving him while he was in her house.
The Bible says, however, that she was 'distracted' by service. She was so distracted, and evidently distraught, that she went to Jesus, rebuking her sister in front of him, and asking Him to send Mary to help her serve.
Jesus lovingly confronts her: "Martha, Martha, you are anxious and troubled about many things, but one thing is necessary. Mary has chosen the good portion, which will not be taken away from her."
Spiritual Gifts or Basic Discipleship?
In 1 Corinthians 12, Paul lists different spiritual gifts that God gives to His people. Could it be that Martha had the gift of service, while Mary had the gift of learning?
No, the difference between these sisters was not a difference of gifts. Devotion – sitting at the feet of Jesus, strengthening our relationship with Him – is not a gift for some disciples. It is a basic essential for all disciples. Everyone is called to it. In fact, for all we know, Mary may have been as much a servant as Martha. The difference between these two ladies is that one had the proper emphasis.
Anxious and Troubled
Martha's problem was not that she wanted to serve. The Bible promises great blessings to those who serve God faithfully (Luke 19:17). Why would Jesus describe Martha's service as anxious and troubled?
Martha's service was rooted in wrong ideas. Martha saw an immense amount of work to be done for the Savior. She saw herself as the only one serving. She lost sight of the sovereignty of God. (We can assume this because her attitude does not take God's sovereignty into account). She begins to think that she herself is responsible for doing everything that needs to be done. She placed little emphasis on sitting at Jesus' feet. Her anxiety and trouble came, not because she served, but because she placed duty above devotion.
Are You a Mary or a Martha?
Which woman do you resemble? The following questions may help you determine if you are a Mary or a Martha.
Am I so busy serving the Lord that I don't have time to sit at His feet?
Do I feel rushed to get through my private devotions (Scripture reading and prayer) so that I can do something for God?
Am I willing to shorten my acts of service so that I have sufficient time to cultivate my relationship with God?
Do I think of God more as a master to be served than a Father to be loved? (Don't misunderstand: both are proper views of God, and both are necessary. Still, you can put too much emphasis on God as a Master, as Martha seems to do).
Do I become discouraged when I look at the amount of work to do in service to God? Does this lead me to trouble and anxiety?
Do I feel like the work in the world rests on my shoulders, or am I able to let go of this burden so that I can sit at Jesus' feet?