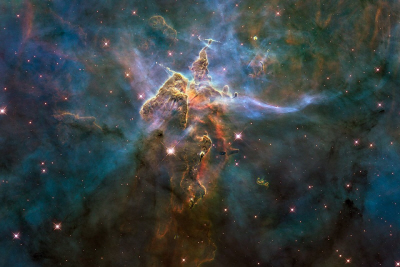 The God of Fullness
This is a guest post by Lucy at SatisfiedByGrace.com. As the second half of a guest post exchange (last week she shared my article on Anxiety in the Christian Life), today Lucy describes for us the reality of God's all-out generosity toward His creation. Read her excellent article below, then check out her website, where you will surely by encouraged by the Biblical truths that she spotlights!
God doesn't do things halfway.
It's not His nature.
He is the God of fullness.
So He didn't just make a planet – he made a universe. A sweep of boundless space, lit by a billion trillion stars. He crafted our world with precision and beauty, and populated it with millions of species of living things, tiny and large.
God went all out.
He never needed the human race. He wasn't lonely, wasn't lacking. But He wanted to make us, and He wanted to invest in us. Although we owe Him everything and He owes us nothing, all throughout history He has been reaching out to His creation. Giving abundantly and tirelessly.
He gave to the point of sending His Son.
The Son of God planted His feet in the dirt of this earth and suffered with His creation for thirty-three years. He didn't hold anything back. He reached out for the unlovely, the hurting and the undeserving. Christ wasn't afraid to confront the mess and the ugliness that sin had brought. He gave everything he had – including His own life. Willing to humble Himself, willing to take the pain, He redeemed us by choice.
Nobody can accuse Christ of being a stingy savior.
It is this background that gives Paul the assurance that he shows in Romans 8:32. "If God did not spare His own Son, but delivered Him up for all, how will He not also with Him freely give us all things?"
Christ's sacrifice is proof to us, not just of justification, but of God's abundant provision for every physical and spiritual need. If God went so far as to send His Son to die, how can we ever doubt His generosity or His love? He isn't a tight-fisted God – far from it. On the contrary, He offers us "every spiritual blessing in Christ."
Our God is a God of fullness, and He offers the extent of His fullness to us. He wants us to know Him in His majesty, share with Him in His eternity, and drink with Him of the fullness of joy. He went to all extremes to make this possible. Christ died to bring dead souls to life. He humbled Himself so that we could share in His divine nature.
So why do we sometimes doubt that He's on our side? Why do we clamor, faithless, for the blessings that God is more than willing to pour out on us?
Just believe. Look back – to the creation, to the cross, to the empty grave, to yesterday's grace – and believe. God is a God of abundance. He wants to pour out His grace on you – He doesn't hold back.
"No good thing does He withhold from those who walk uprightly."