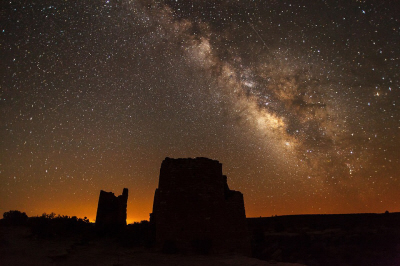 These Ordered Realms
Behold the glories of God's universe!
For all is planned according to its course.
Divinest features traced upon its frame,
Yield each their voice to God's most glor'ous name:
Hence heav'nly spheres have their appointed place;
And distant orbs still run their charted race.
So clouds and birds through the ether'al skies
Maintain their lot when, heaven-ward, they rise.
No less the depths of azure ocean seas –
Or ponds and plains, and brooks and hills and trees.
As fish and monsters roam the farthest main,
His mark and stamp their beings still retain.
So on this orderly terrestr'al sphere –
From emperor, and to the serf, his peer –
Whether in huts or palaces of fame,
Each have their place, the master and the dame.
And so, behold! In sky, and land, and sea
There is a song melodious which HE
Entwined within: when all is understood,
These ordered realms bear proof of GREATER GOOD.