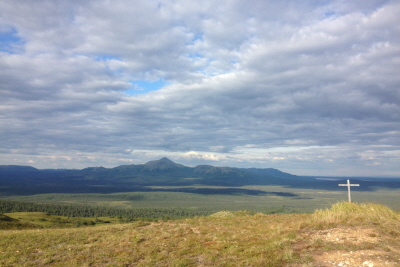 Alaskan Ministry Trip
You may not have realized that I was gone for several weeks, since my sister was so kind as to post my most recent articles, but it's true: I was gone for almost three weeks on an exciting ministry trip in Alaska.
I flew from Kansas City, Missouri to Seattle, Washington, and then north to Anchorage, Alaska. After hours of flying already, I tried to get a little sleep in the airport, but that was easier said than done: not only is it hard to sleep in an airport, it is even harder when the sun is still shining at midnight!
From Anchorage, I flew west into the remote southwestern part of the state. While Alaska is an astonishingly beautiful state, the western region I was in is mostly flat, consisting of miles and miles of desolate tundra.
Alaska is sometimes called 'the last frontier,' and that is definitely true. Except for a patch of civilization that roughly stretches from Palmer in the north to Juneau in the south, much of the state is inaccessible except by boat or plane. Life in the remaining towns is very different from life in the 'lower 48,' and for those who don't live in towns or cities, it resembles life on the American frontier hundreds of years ago. That is one of the things that I enjoyed so much about the state: the ability to fly for tens of miles without seeing a single road, light pole, house, or car. So much unspoiled wilderness still exists.
The majority of my time was spent at a camp for native young people. Children are brought in from different villages for a week of fun and enjoyment, along with several Bible lessons each day. Life in the indigenous villages is very difficult from a spiritual perspective: the villages are often filled with darkness and little Christian witness. Spending a week at camp may provide the only Biblical intake that these young people have, and it removes them for a time from their challenging situations in the village. I was blessed with the opportunity to spend time with these young people, to learn about their lives, to share God's love with them practically, and to teach them more about having a relationship with God through Jesus Christ.
On my last day at camp, I had an opportunity to visit one of the villages. Many of these indigenous villages are, sadly, at third-world levels. When walking through the village, it was hard to believe that I was still in the United States.
Of course, the saddest aspect of village life is the amount of spiritual darkness that exists. There are very few villages with Biblical churches. Instead, traditional shamanic beliefs are slowly yielding to secular mindsets that bring despair and hopelessness.
While the purpose of my trip was ministry, I did have one day to do some sightseeing around the Anchorage / Palmer area. This is a gorgeous region of mountains, valleys, and rivers.
One of the highlights of this time was the opportunity to do some mountain hiking. The clouds were low, and I was concerned that when I reached the top, I wouldn't be able to see anything, since I would be in the cloud. But I didn't need to worry. The view above the clouds was stunning.
I sat on the mountain top, for over an hour. The clouds were constantly shifting, sometimes covering everything, and at other times revealing the entire scene below me. I was reminded again of Psalm 8 – "O Lord, our Lord, how excellent is Thy name in all the earth!"