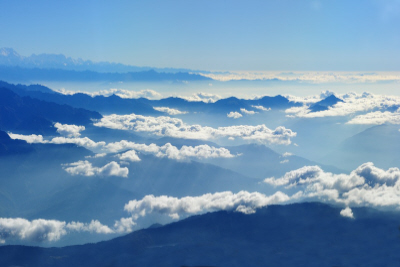 They Desire A Better Country
Jesus described the last times as a scene of "people fainting with fear and with foreboding of what is coming on the world."[1] Recent events seem to confirm this: terrorism in France, unrest in Turkey, and murder in America are only a few of the horrific tragedies and unraveling tranquility that fill our news stations. At times like these, we recognize the inherent instability of the world.
Strangers and Exiles
Christian: remember that this is not your home. The world is terrified by news of disasters, because their only homeland is being disturbed. But this world is not your home, it is only a temporary lodging as you press along your pilgrim pathway.
The author of Hebrews pointed this out, when he showed the example of those who are filled with faith. Throughout all of history, these people have "acknowledged that they were strangers and exiles on the earth."[2]
David lived in a palace, as a king of an ancient and powerful kingdom, but he also realized that a palace on earth is nothing more than a 'house of sojourning' for the Christian. He said to God, "Your statutes have been my songs in the house of my sojourning."[3]
Seeking a Homeland
Whenever someone says that they are a 'stranger' or 'exile,' one thing is immediately clear: they do not view themselves as 'at home.'
If Christians are 'strangers' and 'exiles' in this world, they evidently must have some other home.
That is why the author of Hebrews says, "people who speak thus make it clear that they are seeking a homeland." They have evidently not yet arrived in their homeland.
The unrest in the world today reminds us how wise it is to not seek a homeland in this restless world. Unrest encourages us to seek a different homeland, even a better homeland.
A Better Country
Every Christian longs for a better country – a homeland that is not wracked with turmoil, tears, and troubles. The wonderful, consoling news is that God has prepared such a place for them. Hebrews tells us that, "as it is, they desire a better country, that is, a heavenly one. Therefore, God is not ashamed to be called their God, for he has prepared for them a city."[4]
What is this city like? John described it as, "the holy city, new Jerusalem, coming down out of heaven from God, prepared as a bride adorned for her husband. And I heard a loud voice from the throne saying, 'Behold, the dwelling place of God is with man. He will dwell with them, and they will be his people, and God himself will be with them as their God. He will wipe away every tear from their eyes, and death shall be no more, neither shall there be mourning, nor crying, nor pain anymore, for the former things have passed away.'"[5]
And here is wonderful news for the godly: you are already a citizen of this land, of this 'better country.' Paul reminds us that, "our citizenship is in heaven, and from it we await a Savior, the Lord Jesus Christ, who will transform our lowly body to be like his glorious body, by the power that enables him even to subject all things to himself." [6]
Conclusion
Let me make one thing very clear: the reality of our heavenly citizenship does not allow the Christian to withdraw from the affairs of this world. Many have misunderstood the Bible, thinking that they can sit back, uninvolved in the events of this world, and wait for the second coming of Jesus Christ. This is wrong. It is not the example of Jesus or the early church.
But this does mean that our heavenly citizenship allows us to watch events on earth with quiet composure. No matter how bad things may be, we seek a better country, filled with every good thing.
Paul reminds us, in eloquent and pointed language, of our eternal perspective: "we look not to the things that are seen but to the things that are unseen. For the things that are seen are transient, but the things that are unseen are eternal."[7]
[1] Luke 21:26
[2] Hebrews 11:13
[3] Psalm 119:54
[4] Hebrews 11:16
[5] Revelation 21:2-4
[6] Philippians 3:20-21
[7] 2 Corinthians 4:18