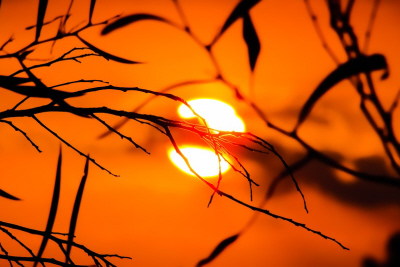 Blessed for a Purpose
Today I am pleased to feature a guest post by Dakota Lynch, a friend who loves to memorize Scripture and who blogs over at thefaithperspective.com. Enjoy this article, then be sure to check his site for more great writing!
"Now as Jesus passed by, He saw a man who was blind from birth."
(John 9:1) 
What would you do if you were suddenly healed from a lifetime of blindness? Would you climb a mountain and look out over miles of landscape? Would you pull out the family photo album and find out what your relatives look like? Or maybe just walk through town and soak in the everyday sights others take for granted?
We don't know if the man in John 9 made any sightseeing plans, but it certainly doesn't appear he got to do much more than answer questions after being healed of blindness by Jesus. After being interrogated by the Pharisees he once again encountered Christ. Here's how the conversation went:
[Jesus] said to him, "Do you believe in the Son of God?"  He answered and said, "Who is He, Lord, that I may believe in Him?" And Jesus said to him, "You have both seen Him and it is He who is talking with you." Then he said, "Lord, I believe!" And he worshiped Him. And Jesus said, "For judgment I have come into this world, that those who do not see may see, and that those who see may be made blind."
As we can see, the man's initial response was one of curiosity. But once Christ revealed Himself as the Son of God, he responded in faith and worship. A tangible blessing led to profound spiritual transformation.
Christ's goal in providing physical healing to the man born blind was twofold: to prepare him for receiving salvation later, and "that the works of God might be displayed in him" (vs. 3). Healing certainly improved the man's quality of life, but Jesus' ultimate mission was not to provide life enhancement; it was "to seek and to save that which was lost" (Luke 19:10).
The healing Christ frequently bestowed during His earthly ministry was never an end itself, but a means by which He made people receptive to the gospel. We see this principle in Matthew 4:23-25 where, after Christ's ministry begins attracting attention, a great crowd gathers around the Man they've heard can heal the sick. Once He has their attention He leads them up to a mountain where He delivers the most powerful, life-changing sermon ever preached.
As believers, we know that "every good gift and every perfect gift is from above" (Jas. 1:17). Whatever blessings we've been given are from the Lord. The house you live in, the friends you spend time with, the church you attend — these are all from the hand of God. Like the once-blind man in today's text, may we always recognize the true source of each blessing in our lives and respond by worshipping Him "in spirit and truth" (John 4:24).
Dakota Lynch is a homeschooled writer and IT manager. He placed his faith in Jesus Christ at the age of 14 and began writing devotionals two years later.  Memorizing Scripture has played a vital role in his spiritual development and he enjoys frequent opportunities to encourage memorization of God's Word in cities across the United States. Visit thefaithperspective.com for more of Dakota's devotionals writings and even some nature photography!