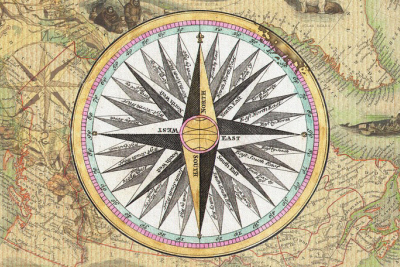 The Christian's Compass
Whether determining what to do with your day, or what to do with your life, you need direction. Sailors know this, and that is why, for centuries, compasses were an essential part of maritime navigation.
John Flavel, an English puritan and pastor from 17th century England, created a 'Christian's Compass,' with 32 different 'points' to direct our lives, drawn from the Bible. Flavel knew that every aspect of life provides illustration of spiritual realities, which is why he even wrote a book titled Navigation Spiritualized, illustrating Biblical truth with facts from naval navigation. Enjoy perusing these 32 points, and consider what direction this gives you in your life!
Notice that Flavel first gives the direction (example: S.E., South East) and then gives the point, using the letters from that direction (example: Sigh Earnestly for more enjoyments of Christ). I have provided footnotes below to explain some of the points.
N. Never steer any course, but by light from God, Psalm 119:105.
N. by E. Never Enter upon any design, but such as tends towards Christ's glory, 1 Peter 4:11.
N.N.E. Note Nothing Enviously,[1] which thrives without God, Psalm 73.
N.E. by N. Never Enter on Not-warrantable courses, even to procure the most coveted advantages, 1 Timothy 6:9-10.
N.E. Now Entertain the sacred commands of God, if hereafter thou expect the sovereign consolations of God, Psalm 119:48.
N.E. by E. Never Esteem Egypt's treasures so much, as for them to forsake the people of God, Hebrews 11:26.
E.N.E. Err Not, Especially in soul-affairs, James 1:16, 1 Timothy 1:19-20, 2 Timothy 2:18.
E. by N. Eschew Nothing[2] but sin, 1 Peter 3:11, Job 1:7-8, Job 31:34.
E. Establish thy heart with grace, Hebrews 13:9.
E. by S. Eye Sanctity[3] in every action, 1 Peter 1:15, Zechariah 14:20.
E.S.E. Ever Strive Earnestly to live under, and to improve, the means of grace, Hebrews 10:25.
S.E. by E. Suffer Every Evil of punishment or sorrow, rather than leave the ways of Christ and grace.
S.E. Sigh Earnestly for more enjoyments of Christ.
S.E. by S. Seek Evermore Some evidences of Christ in you, the hope of glory.
S.S.E. Still Set Eternity before you, in regard of enjoying Jesus Christ, John 17:24.
S. by E. Settle it Ever in your soul, as a principle which you will never depart from, that holiness and true happiness are in Christ, and by Christ.
S. Set thyself always as before the Lord, Psalm 16:8, Acts 2:25.
S. by W. See Weakness hastening thee to death, even when thou art at the highest pitch, or point.
S.S.W. See Sin, Which is the sting of death, as taken away by Christ, 1 Corinthians 15:55-57.
S.W. by S. Store Wisely Some provisions every day for your dying day.
S.W. Set Worldly things under your feet, before death come to look you in the face.
S.W. by W. Still Weigh and Watch with loins girded and Lamps trimmed, Luke 12:35-37.
W.S.W. Weigh Soul-Works in the balance of the sanctuary.
W. by S. Walk in Sweet communion with Christ here, and so thou mayest die in peace, Luke 2:29.
W. Whatsoever thy condition be in this world, eye God as the Disposer of it, and therein be contented, Philippians 4:11.
W. by N. Walk Not according to the course of the most, but after the example of the best.
W.N.W. Weigh Not What men speak or think of thee, so God approve thee,[4] 2 Chronicles 10:8, Romans 2:28-29.
N.W. by W. Never Wink at, but Watch against small sins, and never neglect little duties, Ephesians 5:15-16.
N.W. Never Wish rashly for death, nor love life inordinately, 1 Kings 19:4, Job 2:4
N.W. by N. Now Work Nimbly ere night come, Job 10:21-22, Ecclesiastes 9:10.
N.N.W. Name Nothing When thou pleadest with God for thy soul, but Christ and free-grace, Daniel 9:17-18.
N. by W. Now Welcome Christ, if at death thou wouldst be welcomed by Christ.
Flavel writes, "A tender, quick, enlivened, and enlightened conscience, is the only point upon which we must erect these practical rules of our Christian compass, Hebrews 12:1, 2 Corinthians 1:12. Our memory, that is the box in which this compass must be kept, in which these rules must be treasured, that we may be as ready and expert in using them as the mariner is in using his sea compass."
[1] Do not desire anything
[2] Deliberately avoid, abstain from
[3] Consider sanctification
[4] Do not consider what men think of you, if God approves you
What other Biblical maxims come to your mind as you consider God's direction in life? Which of these maxims is most helpful for you?