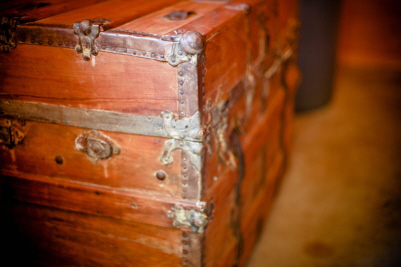 The Christian's Treasure Chest
The Pharaohs built vast eternal palaces, pyramids, for their mummified bodies. These gloomy chambers were filled with everything from chariots (to enjoy a good chase in the afterworld) to food and drink (since they would surely be hungry). They even filled their graves with carvings of servants, who would magically come to life and serve their every whim in the afterlife.
The Egyptian theology may have been wrong, but Christians can still learn one important lesson from them – the importance of preparing for death. Recently I shared "The Christian's Compass," written by John Flavel. It provides 32 points of advice whenever you are making a decision. While all of the points are good, I particularly noticed the twentieth 'point on the compass.' It says, "S.W. by S. Store Wisely Some provisions every day for your dying day."
Why You Need a Treasure Chest
You will die and I will die. You will probably also face some periods of sustained temptations, or periods of doubts in your life. This is why you need a treasure chest – to store up for these challenging times.
Christian, in the famous book 'Pilgrim's Progress,' experienced the intense temptations and doubts of the devil as he passed through the river, an allegory of death. Listen to what he experienced in his final hours:
"…entering, Christian began to sink, and crying out to his good friend Hopeful, he said, I sink in deep waters; the billows go over my head; all his waves go over me. Selah…Then said Christian, Ah! my friend, the sorrows of death have compassed me about, I shall not see the land that flows with milk and honey. And with that a great darkness and horror fell upon Christian, so that he could not see before him. Also here he in a great measure lost his senses, so that he could neither remember nor orderly talk of any of those sweet refreshments that he had met with in the way of his pilgrimage."
"But all the words that he spoke still tended to discover that he had horror of mind, and heart-fears that he should die in that river, and never obtain entrance in at the gate. Here also, as they that stood by perceived, he was much in the troublesome thoughts of the sins that he had committed, both since and before he began to be a pilgrim. It was also observed that he was troubled with apparitions of hobgoblins and evil spirits; for ever and anon he would intimate so much by words."
"Hopeful therefore here had much ado to keep his brother's head above water; yea, sometimes he would be quite gone down, and then, ere a while, he would rise up again half dead. Hopeful did also endeavor to comfort him, saying, Brother, I see the gate, and men standing by to receive us; but Christian would answer, It is you, it is you they wait for; for you have been hopeful ever since I knew you. And so have you, said he to Christian. Ah, brother, (said he,) surely if I was right he would now arise to help me; but for my sins he hath brought me into the snare, and hath left me."
Just as John Bunyan illustrates in this quote, sometimes the Devil will make his final, most horrendous assault on the Christian in his deathbed. Will you be prepared?
Sometimes, though, a treasure chest is helpful at other times. A friend once had a similar idea when he said that he kept a 'spiritual briefcase.' Each day he would try to fill it, and then, in moments of doubt – when he doubted whether God was really at work in his life – he would open this briefcase, so to speak, and be reminded of God's work.
How to Fill the Treasure Chest
Augustine was right when he said, "He cannot die badly who lives well; and scarcely shall he die well who lives badly." When I talk about filling the treasure chest, I am talking about filling it with what the Bible calls 'good works.'
Christians have always understood the importance of good works. While there is some confusion about them (especially in our modern, cheap-grace forms of Christianity), the Bible speaks clearly about them.
Paul told the Ephesians that "we are his workmanship, created in Christ Jesus for good works, which God prepared beforehand, that we should walk in them" (Ephesians 2:10). He told Timothy that Christ "gave himself for us to redeem us from all lawlessness and to purify for himself a people for his own possession who are zealous for good works" (Titus 2:14). Indeed, he said it was trustworthy, and something to be insisted on, that "those who have believed in God may be careful to devote themselves to good works" (Titus 3:8).
When I speak about filling your treasure chest with good works, I am saying that there is benefit to consciously doing things each day that will fill you with biblical assurance about the state of your soul. It could be simple things – spending time with a friend who needs help, serving someone, giving to someone in need.
You don't have to write these things down each day, but if you do little things like this daily, storing them in your 'spiritual treasure chest,' then at the end of your life (or any other moment of temptation), you can look back and thing, "for all these years, God has helped me die to self, deny my desires, and combat sin. Is not this evidence of God's grace working in me?"
A Caution
Please understand the purpose of such a treasure chest. It is meant as a testament to God's grace, and an encouragement to your faith. It is not meant as a 'get into heaven voucher.' You don't store up these 'good works' as a way to earn favor with God – absolutely not! Nothing you ever have done, or will do, can earn favor in his sight. Instead, this treasure chest is simply an encouragement to you – a way to combat the assaults of the devil and prepare to face whatever temptation await.